Welcome to
Van der Valk Hotel Dordrecht
Thank you for choosing Van der Valk Hotel Dordrecht.
Via this online room directory you can obtain more information about our hotel and the immediate area. For questions you can also contact the hotel reception, but also for tips & tricks about the area. Our reception can also be reached by telephone 24 hours a day.
If, despite our commitment to make your stay an excellent one, you run into a problem, it is best to report it immediately so that we can look for a solution together with you.
On behalf of our entire team, we wish you a very pleasant stay.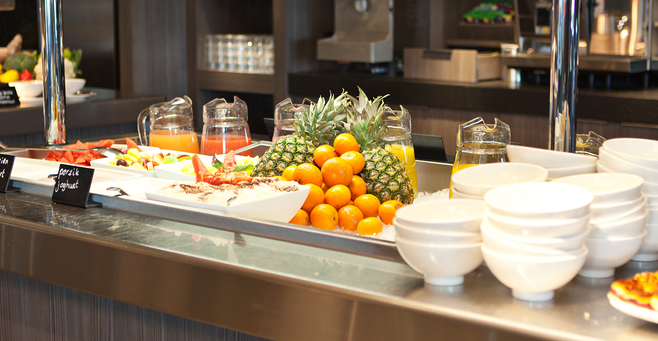 BREAKFAST 'BUFFET'
opening hours
Monday - Friday
6.30 - 10.30 hr.
Saturday and Sunday
7.00 - 11.00 hr.
À LA CARTE
Our restaurant is open daily for a delicious lunch and dinner.
On the menu you will not only find traditional dishes from French cuisine, but also surprising specialties from Italian, South American and Oriental cuisine.
Reservation is necessary. The restaurant closes at 10 pm.
Reserve your table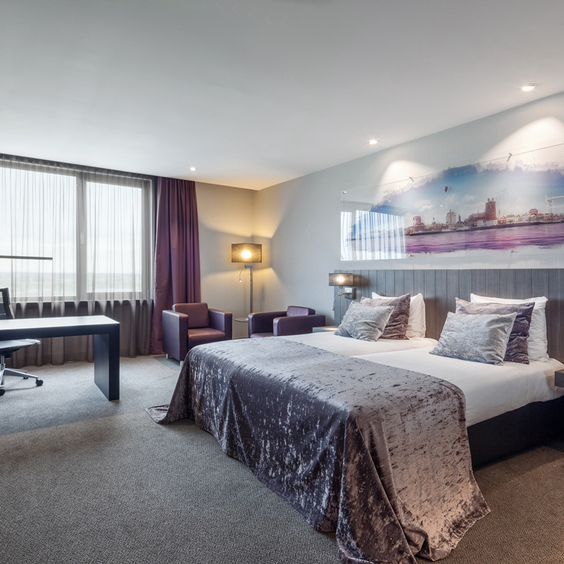 Check out time
It is possible to check out until 11:00. If desired, you can still use our facilities after check-out.
LAZY SUNDAY
On Sundays it is possible to extend your stay free of charge until 5 p.m. based on availability. Ask the reception about this option.

* Not available for suites. Renewal free of charge only when the reservation is made via a Valk website.
our facilities
Wellness Center with a pool, sauna and a gym.
Meeting point & Bar
Outdoor Fitness
Internet (Wi-Fi)
Bike rental
Skybar
Oplaadpunten (auto)
Running routes
💡 The wellness center is only available to hotel guests and only by reservation.
Facilities
QWIC E-BIKE

The QWIC E-bikes have a range of 85 km, if the battery is fully charged, be aware of this upon departure. Therefore, always check the lights on departure.

picnic bag

wrap cream cheese and salmon
wrap carpaccio
box of pringles
100 grams of nuts
can of soda
bottle of house wine (0.25 L)

Tip 💡Book a Premium Picknic Bag at the hotel.
AED
The AED is located at the Front Desk in the Back Office and on the 14th floor near the elevator.
ALARM
In case of emergency please contact the Front Desk.
BABY COTS
Baby cots may be arranged at the Front Desk for an additional charge of € 10,00 per night.
BALCONY DOOR
The balcony door closes by first pushing the latch up.
BANKS
The nearest ATM is 4KM from the hotel at shopping center Sterrenbrug. You can not withdraw money in the hotel
BAR
De hotelbar is closed at the moment.
BATHROOM FOR DISABLED
On the first and second floor, you will find handicap bathroom facilities.
CANDLES
It is not allowed to light up candles or any open fire in the room.
COMPLAINTS OR COMMENTS
If you have any complaints or comments, please contact the Front Desk. They will be happy to alert the appropriate department.
CONFERENCES / MEETINGS
We offer you extensive options for organizing conferences, meetings, weddings and parties.
For information you can contact our banquet sales on the second floor every working day from 8AM to 5PM. (key 830).
Outside office hours and on weekends, you can leave a message at the reception or send an e-mail to sales@dordrecht.valk.nl.
DO NOT DISTURB
If you do not want to be disturbed, hang the do not disturb card on the outside of the door.
💡 Housekeeping will hang a bag of clean towels on the outside of the door.
DOCTOR
If you wish to contact a general practitioner, we refer you to the general practice Sparen.
✔️ More info.
IN A EMERGENCY, CALL 112 IMMEDIATELY
ELECTRICITY
The AC is 220V. You may purchase a universal adapter at the Front desk.
EMERGENCY EXITS
All emergency exits are clearly marked in the hallways and equipped with lighting. In case of calamities, listen to the instructions.
FIRE
In the event of a fire, it is important that you remain calm, report the fire immediately to the reception and follow the instructions of our staff.
In case of strong smoke development it is important to stay close to the ground. Under no circumstances use the lift and leave the hotel as soon as possible via the indicated emergency exits.
FIRST-AID KIT
There is a first-aid kit present at the Front Desk
GYM
The gym is closed at the moment.
HOUSEKEEPING
For questions or comments regarding the housekeeping, please contact the Front Desk.
INTERNET
The entire building has free wireless internet. The network name is 'KPN'. You do not need a password.
IRON
An iron may be borrowed at the Front Desk, an ironing board you will find in the closet.
LAUNDRY
It is possible to have your clothes cleaned. You will find a form and a laundry bag in the wardrobe in your room.
💡 If you hand in the laundry at the reception before 8 AM you will receive the laundry returned the next day before 10 AM. Except on weekends and holidays.
LOST PROPERTY
You can contact the reception for lost items. We keep items for a period of 4 weeks. Picking up an item is possible, we do not send anything by mail.
MINIBAR
In the room you will find a minibar, it is not stocked. You can keep food, drink or medicines cold during your stay.
💡 For € 16.00 you can buy a minibar package with various drinks and snacks at the reception.
PAYMENTS
We accept the following payment methods:
cash
PIN / Maestro
American Express / Diners / Mastercard / Visa
Van der Valk Gift Card
PETS
Pets, with a maximum height of 50 cm, are allowed in the à la carte restaurant, but not in the buffet restaurant.
Pets are allowed at a surcharge of € 17,50 per day in a number of selected rooms, please inquire at the reception about the price and availability.
PHARMACY
The nearest pharmacy is Sterrenburg pharmacy.
✔️ More info.
PILLOW
You will find 2 extra pillows in your closet.
POST / MAIL
Mail can be delivered and paid at the reception. The hotel takes care of the shipment. We do not ship packages.
💡 You can pick up incoming mail at the reception.
PUBLIC TRANSPORT
At the roundabout in front of the hotel, a bus runs several times an hour that takes you to the center or train station of Dordrecht.
For current travel times, check the 9292.nl website ✔️ More info.
ROOM SERVICE
From 12 pm to 22 pm it is possible to place a room service order via the QR code in your room. We charge a service fee of € 15,00 each time we deliver an order to your room.
ROOM SERVICE BREAKFAST
We offer you the option of having your breakfast delivered to your room. A surcharge of € 20,00 per delivery applies. It is possible to order a room service breakfast up to the day before, not anymore on the same day.
SAFE
Each room and suite includes a safe where you may store your valuables.
💡 To use the safe, enter a 6-digit personal code and then press the '#' key. When the safe is closed, enter the same 6-digit code to open it.
SAUNA
Check 'Wellness Centre'
SKYBAR
On the 14th floor you will find the Skybar, which can only be exclusively hired for cocktail parties, receptions, meetings, etc. If you wish more information about this, please contact the Front Desk.
SMOKING
Smoking in the hotel is strictly prohibited. If we notice a smoke smell in the room there will be a € 150,- fine added to your bill.
💡 There is an opportunity to smoke in front of the entrance and in our parking garage.
SWIMMING POOL
Check 'Wellness Centre'
TAXI
Please contact the Front Desk to request a taxi.
TELEPHONE
With the telephone in your room you can call the reception and, if a company or credit card guarantee is available, go outside. For an outside line, first select a 9.
TELEVISION
Standard channels are free in your room.
TERRACE
Our terrace is open during good weather. You may acces the terrace through the restaurant on the first floor.
TOILETRIES
These are (limited choice) available at the Front Desk.
WAKE-UP CALL
If you wish to make use of our wake-up call service, please let our Front Desk know.
WELLNESS CENTRE (SWIMMING POOL / SAUNA)
The wellness center is available upon reservation. It is possible to book once per day on every hour for a 50-minute use.
WINDOW WASHER
Periodically, on Tuesdays, the windows are washed on the outside. It is not possible to indicate in advance at which time the window cleaner will be present at which window. Please note that you keep closed on decisions.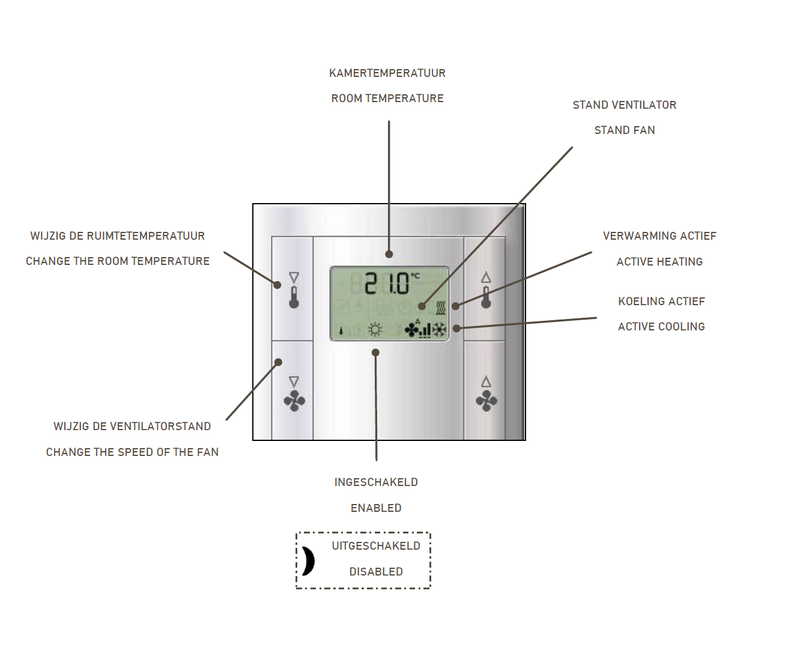 Climate control
The climate control works when your key card is in the power slot. If you remove this or open the window / balcony door, the climate control will be reset to the default value of 21 ℃.
💡 Climate control is only active when a sun is shown on the display. In case you find the moon symbol, the system is disabled. It can help to position the window handle horizontally instead of vertically.